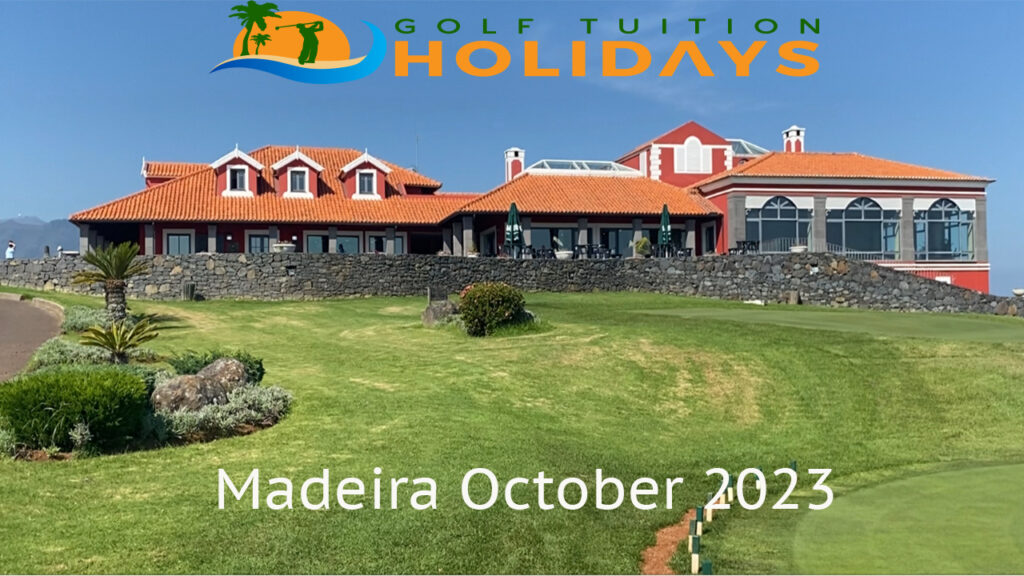 Madeira – Hotel Porto Mare
Twin golfer £1545 pp (ex flights)
Twin non golfer £1150 pp (ex flights)
Single golfer £2055 pp (ex flights)
Single non £1675 pp (ex flights)
Hotel Porto Santa Maria
7 nights HB
2 rounds Santa Da Serra inc transfers
2 rounds Palheiro inc transfers
Stu & Siani's Wedding 
After ending up in Madeira in 2020 due to COVID travel restrictions, we fell in love with this beautiful island and have decided to run a special GTH in October 2023. Hotel Porto Santa Maria is a four star hotel with five star qualities throughout, you certainly won't be disappointed. It's location right in the heart of Funchal, making this the perfect venue for golfers and non golfers, as access to local shops, restaurants and attractions are all within a couple of minutes walk.
GOLFERS – We have organised a coach to take us to both courses and this will leave at 9:00am each day. Both courses are up in the mountain which offer amazing views throughout and for the hardy, you can walk both courses but buggies are advisable. There will be a choice of tuition before each game so make sure you pick the area each day that is letting you down the most.
Palheiro GC – https://www.palheironatureestate.com/palheiro-golf.html/
Santa Da Serra GC – https://www.santodaserragolf.com
NON GOLFERS – There is so much to see and do in Madeira that you certainly won't be bored whilst the rest of us are playing golf. I'm happy to organise some trips on certain days or you can organise something yourselves, either way just let me know.
Botanical Gardens – https://ifcn.madeira.gov.pt/quintas-e-jardins/jardin-botanico-da-madeira-eng-rui-vieira
Monte Palace Madeira – https://montepalacemadeira.com/desktop/
Cable Car – https://madeiracablecar.com/en/
Toboggan ride – https://madeira.best/product/madeira-toboggan-ride-on-traditional-wicker-basket-sledges
On the third day of the trip we would love you to join us at our wedding where you will be our guests. We will taxi everyone to the wedding venue where everything from the ceremony, to the meal, to the evening party will take place, and this day is on us. Once finished we will taxi everyone back to the hotel.
Travel to the resort and probably have time to walk around the shops and restaurants.
9:00am – Coach to Palheiro GC
9:30am – Choice of swing check, putting, chipping or bunker lesson
10:30am – Tee off 18 holes Texas Scramble
9:00am – Coach to Santa Da Serra GC
9:30am – Choice of swing check, putting, chipping or bunker lesson
10:30am – Tee off 18 holes Stableford
Guests at our Wedding
1:00pm –  Coach to the wedding venue
1:20pm – Welcome cocktails & soft drinks
2:00pm – Wedding ceremony
2:30pm – Celebratory drinks
4:00pm – Wedding meal followed by Madeira wine and cheese 
7:00pm – Cutting of the cake
7:30pm – Party time
11:30pm – Return coach 
9:00am – Coach to Palheiro GC
9:30am – Choice of swing check, putting, chipping or bunker lesson
10:30am – Tee off 18 holes Stableford
9:00am – Coach to Santa Da Serra GC
9:30am – Choice of swing check, putting, chipping or bunker lesson
10:30am – Tee off 18 holes TEXAS Scramble