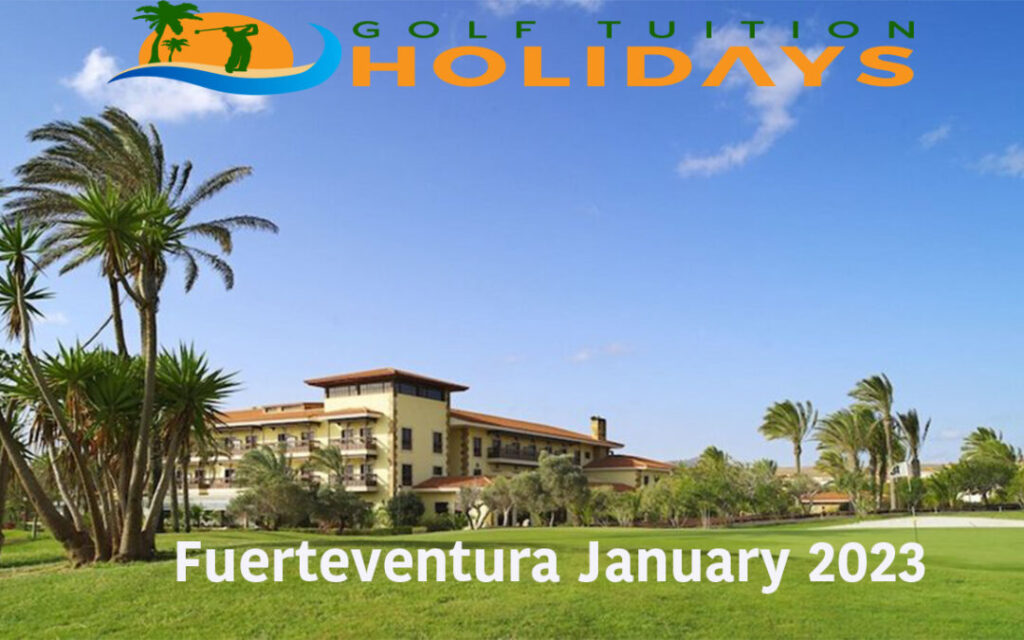 22nd – 29th January (7 nights)
22nd January – 1st February (10 nights)
7 nights
Single £1695 Twin £1395 (ex flights)
10 nights
Single £2295 Twin £1895 (ex flights)
The above dates are FULL so we now have an extra 7 night trip
29th January – 5th February
7 or 10 Nights 5* Elba Palace
5 or 8 rounds with pull trollies
Unlimited range balls
Full use of practice facilities
All tuition
Airport transfers
The Elba Palace Golf & Vital Hotel is adults only and one of only two 5* hotels on the island, and I can guarantee you will not be disappointed from start to finish. The hotel is situated on the course with breakfast views of watching golfers on the driving range, and A la Carte evening meal, making this your perfect choice for a winter break. With a fully organised itinerary for every day, you can sit back hassle free and look forward to enjoying your experience with us, it's that easy.
This trip is going to have two main tuition focuses, Driving and Chipping along with smaller focus on Pitching, Bunkers and Putting.
Driving – we will not only being improving your distance and accuracy we will also teach you how to control the ball flight shape – Draw & Fade.
Chipping – everyone will go through a simple chipping test where we will score you. We will work hard on every aspect of your chipping through your stay before retesting you at the end, where you will see how much you have improved.
Pitching, Bunkers, Putting – set up is key for all three of these shots and that's what we will focus on, along with some technique tips.
Travel to resort
If arrive at resort early enough, some people can take their chipping test in the afternoon
09:00 – Chipping test (individual 15 min slots)
11:30 – Tee off 18 holes
09:00-09:45 – Understanding your run value for each club
09:45-10:30 – Understanding your run value for each club
10:30-11:15 – Building up extra power for driving in backswing
11:30 – Tee off 18 holes
09:00-09:45 – Mastering a solid strike for all chip shots
09:45-10:30 – Mastering a solid strike for all chip shots
10:30-11:15 – Using the ground to send your drives longer
11:30 – Tee off 18 holes
09:00-09:45 – Putting set up and stroke tempo
09:00-09:45 – Bunker set up and impact focus
09:45-10:30 – Putting set up and stroke tempo
09:45-10:30 – Bunker set up and impact focus
10:30-11:15 – Pitching set up and extension 
Afternoon off
09:00-09:45 – understanding set up for tricky lies when chipping
09:45-10:30 – understanding set up for tricky lies when chipping
10:30-11:15 – understanding how to hit draw and fade with a driver
11:30 – Tee off 18 holes
09:00 – Chipping test (individual 15 min slots)
11:30 – Tee off 18 holes
7 nighters travel home
10 nighters day off
10:00 – Tee off 18 holes for playing assessment
09:00-11:00 – individual lesson working on your weak point
11:30 – Tee off 18 holes