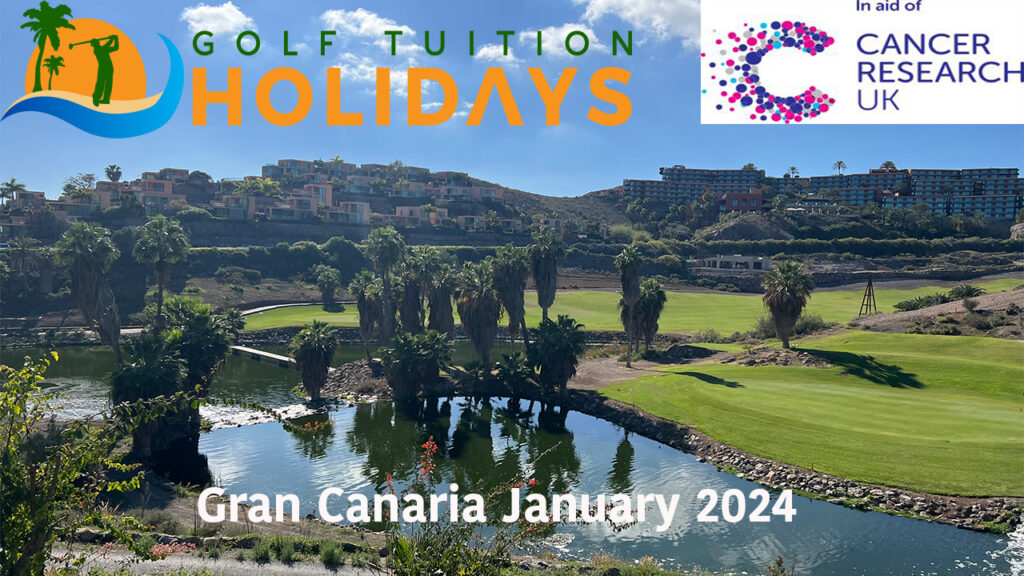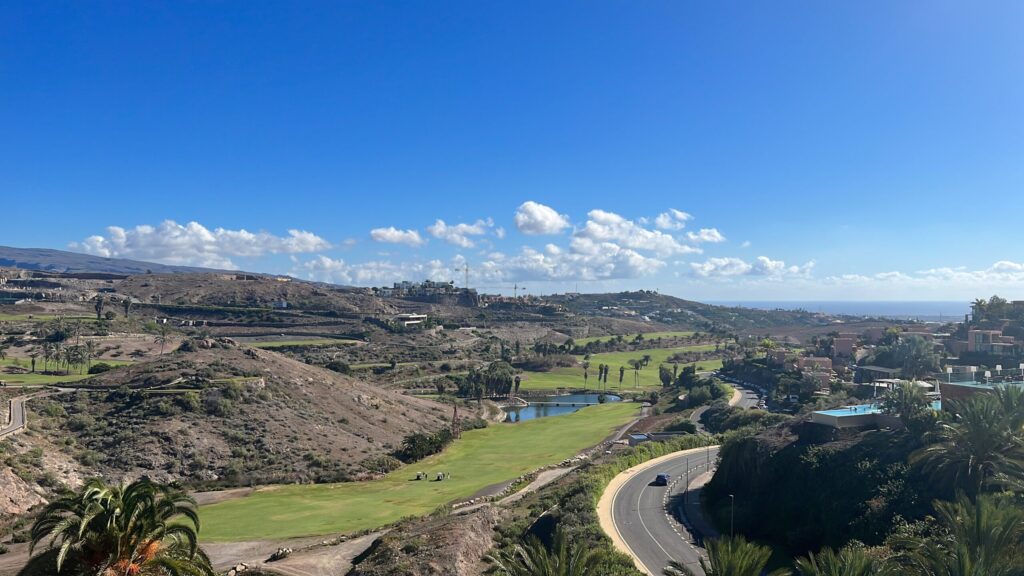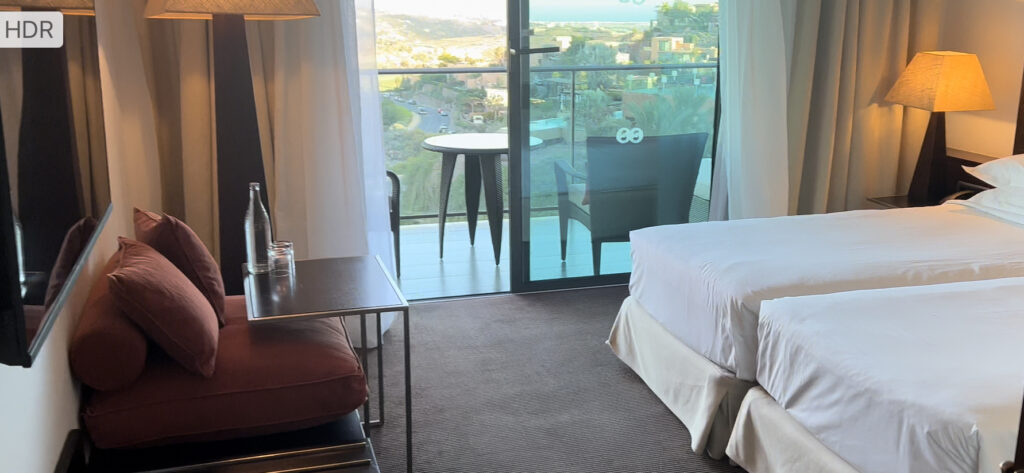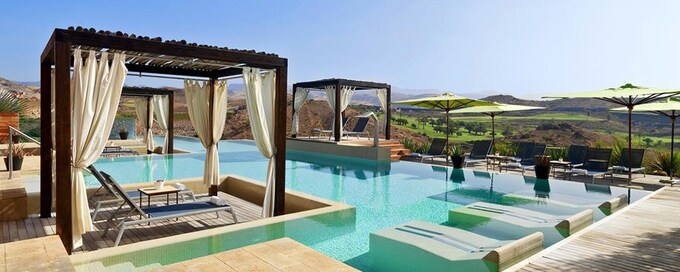 Salobre Hotel Resort & Serenity 5*
Charity Golf Competition – Cancer Research U.K.
Single £1845pp – Twin £1595pp
Twin Non Golfer – £1100
7 Nights Half Board
6 rounds of golf on the Old Course and the option of another 9 holes on New course in the afternoons. (Buggy must be used)
One competition for golfers who meet the handicap criteria and another competition for those who don't
One lunch a la carte (set menu) at The S Club
All tuition
Range balls
Fantastic prizes
Raise money for Cancer Research U.K.
This is going to be a trip to remember for a few reasons. The Salobre resort is one of the finest in the canaries and have not only allowed us to run this event here in peak season, but have given us an excellent package for a fantastic price. We have managed to get hold of around £10,000 in competition/raffle prizes for this special trip.
Breakfast will be at your own leisure with seating in the main dining areas, where as the evening meal we have been allocated our own private dining room, where we will look to sit down around 19:45 every evening. After the meal we will run through the the daily prize winners and for those who are interested, there will be evening entertainment in the S bar most nights.
Some of the fantastic prizes we have so far –
A set of Mizuno irons to be custom fit on the Tour Wagon and then 18 holes at Bearwood Lakes with a Mizuno Staff player. (Money can't buy this wonderful prize)
A five night break for 2 people HB with 2 rounds of golf at Salobre Hotel Resort & Serenity
£500 off a Golf Tuition Holiday in 2024
A two night break for 2 people HB with 2 rounds of golf at Salobre Hotel Resort & Serenity
Motocaddy S1 trollies
Ping Putters
Sunderland and Glenmuir vouchers
And so many more fantastic prizes
The reason we are able to offer such amazing competition/raffle prizes, is because the golf competition element of this trip is 100% in aid of Cancer Research U.K. and our target is to raise £10,000 from the week. Both competitions (depending on hip criteria being met) will be over four rounds on Stableford scoring and with 85% of your course handicap, and the scoring system will make handicap adjustments where necessary after each round. To allow us to hopefully reach our £10,000 target we estimate the size of this group will be up to 112 golfers. There will be a two tee start from 10:00 until 11:57 and these will be in 9 minute slots which will be ample time to get everyone off.
With six rounds included in this trip the format will be as follows
Monday – Practice round
Tuesday – Round 1
Wednesday – Round 2
Thursday – Texas Scramble / Day Off
Friday – Round 3
Saturday – Final round & Evening Presentation
And on any day in the afternoon you are welcome to play a further 9 holes on the New Course. (Buggy is required @ €15pp)
Competition rules
1. The competition will be over four rounds totalling the Stableford points achieved.
2. Play off 85% of your course handicap
3. Separate men and ladies comps
4. Play the ball as it lies (subject to golf rules)
5. Must have an official WHS handicap as we will check via your CDH number (or equivalent)
6. Must have entered six competitive rounds in 2023
7. Mustn't have fewer than 16 cards in the WHS system
8. Handicap adjustments will happen after each round (see below for format)
9. Gents maximum HI is 30 and Ladies maximum HI is 40
10. You will be cut for every point better than 36 points that you score by your category. You will also gain for every point you score worse than 28 points by your category. (See below for example)
11. Local rules will be handed out before the competition
Handicap Adjustments – There will be five playing handicap categories and the amount per shot you will be cut or have added on, are next to the categories.
Cat 1 – 5 and under – 0.1
Cat 2 – 6-12 – 0.2
Cat 3 – 13-20 – 0.3
Cat 4 – 21-30 – 0.4
Cat 5 – 31-40 – 0.5
Example – you score 40 points on day one and your HI is cut by
Cat 1 – 0.4
Cat 2 – 0.8
Cat 3 – 1.2
Cat 4 – 1.6
Cat 5 – 2.0
On round two you score 25 points, your HI goes up by
Cat 1 – 0.3
Cat 2 – 0.6
Cat 3 – 0.9
Cat 4 – 1.2
Cat 5 – 1.5
So your HI can go both up and down, but the lowest points we will use is set at 22. This means if you score only 19 points, you will only be awarded extra HI from 22 points which is a maximum of 6 times your category.
For tuition, you will have a one hour slot which will be between 08:30-09:30 or 09:30-10:30 depending on your tee time. Every day you will have 20 minutes working on your swing and the other 40 minutes will be a mixture of Putting, Chipping, Bunkers and Putting, where you will work on a different two each day. If you have had a bad game and wish for one of the professionals to take a look after your game, then you only have to ask.
08:30 – 09:30 – Group A Coaching
09:30 – 10:30 – Group B Coaching
10:00-11:57 – Tee of 18 holes – Practice Round
08:30 – 09:30 – Group A Coaching
09:30 – 10:30 – Group B Coaching
10:00-11:57 – Tee of 18 holes – Round 1
08:30 – 09:30 – Group A Coaching
09:30 – 10:30 – Group B Coaching
10:00-11:57 – Tee of 18 holes – Round 2
08:30 – 09:30 – Group A Coaching
09:30 – 10:30 – Group B Coaching
10:00-11:57 – Tee of 18 holes – Texas Scramble
08:30 – 09:30 – Group A Coaching
09:30 – 10:30 – Group B Coaching
10:00-11:57 – Tee of 18 holes – Round 3
08:30 – 09:30 – Group A Coaching
09:30 – 10:30 – Group B Coaching
10:00-11:57 – Tee of 18 holes – Round 4
20:00 – Presentation night (Dress to impress)